TOORAK VILLAGE
SCULPTURE EXHIBITION
2010 EXHIBITION
The 2010 Toorak Village Sculpture Exhibition, directed by Tony Fialides and curated by Malcolm Thomson, was a success featuring many high quality sculptures. We had an increased number of visitors and shoppers to the Village over the month of May and a record number of sculptures sold this year.
Toorak Village businesses displayed 85 contemporary sculptures in their windows with 10 large sculptures bolted to the pavements of Toorak Road. Artists from VIC, QLD, SA, WA, NSW and ACT were all represented in the exhibition with visitors coming from all around Victoria, many from interstate and overseas. The Opening event was attended by over 300 invited traders, artists, art collectors, councillors and special guests. Officially opened by Kelly O'Dwyer MP Federal Member for Higgins, on Friday April 30th at the Tok H Shopping Centre, followed by music and dancing at the new Trak nightclub.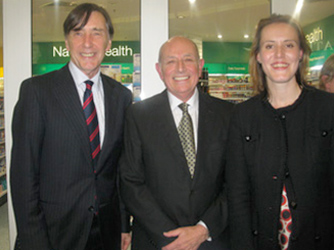 L to R: Cr John Chandler, Tony Fialides & Kelly O'Dwyer MP
The 2010 Exhibition catalogue
This year saw the introduction of a 'new' Sculpture Prize Competition where all visitors to the Toorak Village had the opportunity to win an Ian Lyell Design sculpture valued at $4,500 by attending and filling in the entry form in the catalogue.
DOWNLOAD 2010 CATALOGUE
AWARDS
This years 95 sculptures were individually assessed and critiqued by Dr Ken Wach, head of Academic Art at the University of Melbourne, who after many hours judged the winners. 3 awards were given to the value of $8,500 – The City of Stonnington & Toorak Village Traders Award of $5,000 to Fatih Semiz with exterior exhibit no 63 – 'Ice' at 501 Toorak Road. The Westpac Toorak Award of $2,500 to Anton McMurray with shop exhibit no 20 – 'The Visitor' at the Commonwealth Bank. The Tok Corporate Award of $1,000 to Angela Leech with shop exhibit no 32 – '1956 Horsepower' at Henry Bucks Menswear.
SPONSORSHIP
The success of the Sculpture Exhibition is due to the continued support of the City of Stonnington and our many other sponsor partners including Melbourne Weekly, Yarra Trams, Westpac Toorak, Tok Corporate Centre, Tok H Shopping Centre, Toorak Travel, Ian Lyell Design, Bluestar Print, Aromatique, Marshall White and Rotary Toorak.
WINNING SCULPTURES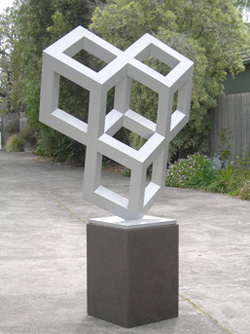 City of Stonnington & Toorak Village
Traders Award of $5,000
Fatih Semiz
Ice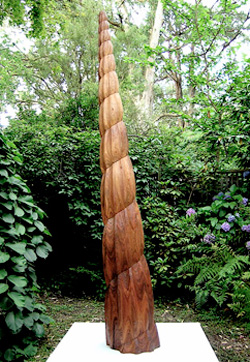 Westpac Toorak Award of $2,500
Anton McMurray
The Visitor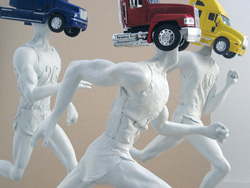 Tok Corporate Award of $1,000
Angela Leech
1956 Horsepower