TOORAK VILLAGE
SCULPTURE EXHIBITION
2009 EXHIBITION
No longer a Festival, 2009 saw the official name change to the 'Toorak Village Sculpture Exhibition' with the emphasis on exhibiting the best sculpture works of both emerging and prominent sculptors from around Victoria and interstate. The Opening event attended by over 200 invited traders, artists, art collectors, councillors & special guests, was officially opened by Ted Baillieu MLA on Friday 1st May at the Tok H Shopping Centre.
L to R: Tony Fialides, Mayor Claude Ullin & Ted Baillieu MLA
The 2009 Exhibition catalogue cover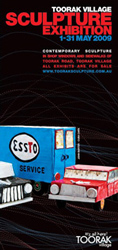 This the 8th year, we exhibited 85 sculptures selected by our exhibition committee with the assistance of consultant curator – Malcolm Thomson. Bolted to the pavements and enjoying the vibrancy that exists in this compact shopping precinct were 9 large exterior sculptures with 76 smaller sculptures displayed in the shop windows of Toorak Village businesses.
The Toorak Village Traders Association this year purchased the Julia M. Anderson sculpture Staking the Future-Fertility Totem for permanent display at the corner of Toorak and Canterbury Rd. This is the second permanent sculpture that now stands in the Toorak Village enjoyed all year round.
DOWNLOAD 2009 CATALOGUE
AWARDS
This years judge Dr. Deanne Hardwick, took many hours to walk the Village, view, assess & finally judge the 85 sculptures to find our winners. 3 awards to the value of $8,500 were given – City of Stonnington & Toorak Village Traders Award of $5,000 to James Cattell with The Final Move in Toorak Travel. Yarra Trams Award of $2,500 to Robert Hague with Discus in Robbie Barker Hair. Tok Corporate Award of $1,000 to Philip Cooper with Homo Coelestus Novus (Heavenly New Man) in Jo Malone.
SPONSORSHIP
The success of this years Sculpture Exhibition is largely due to the continued support of the City of Stonnington and our many other sponsor partners including Melbourne Weekly Magazine, Yarra Trams, Westpac, Mercedes-Benz Toorak, Tok Corporate Centre, Tok H Shopping Centre, Toorak Travel, Marshall White and Rotary Toorak.
WINNING SCULPTURES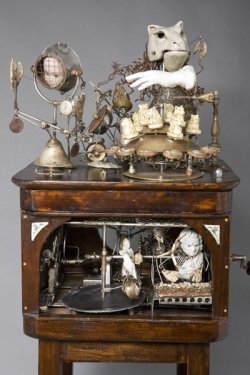 The City of Stonnington & Toorak Village Traders Award of $5,000
James Cattell
The Final Move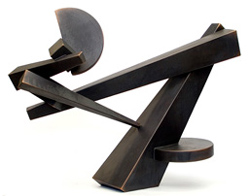 Yarra Trams Award of $2,500
Robert Hague
Discus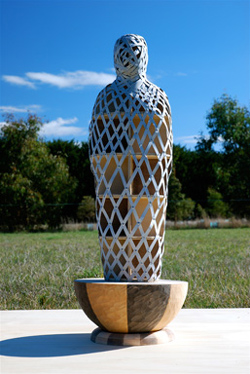 Tok Corporate Award $1,000
Philip Cooper
Homo Coelestus Novus