TOORAK VILLAGE
SCULPTURE EXHIBITION
2014 EXHIBITION
This was the 13th year of 2014 Toorak Village Sculpture Exhibition with 99 sculptures displayed in the street and shop windows of Toorak Village bringing visitors to enjoy both art and shopping. The gorgeous weather this year assisted the outdoors exhibition making the walk from shop to shop an enjoyable day out..
93 artists where given the opportunity to be part of the Toorak Village Sculpture Exhibition this year and display their work along side the 6 permanent sculptures purchased by the Toorak Village traders over the years of the exhibition. Clem Newton-Brown MP State Member for Prahran officially opened the event on Friday 2nd May with the presentation of 3 (non acquisitive) awards judged by Matthew Harding and Brigit Heller.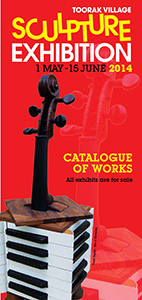 DOWNLAOD 2014 CATALOGUE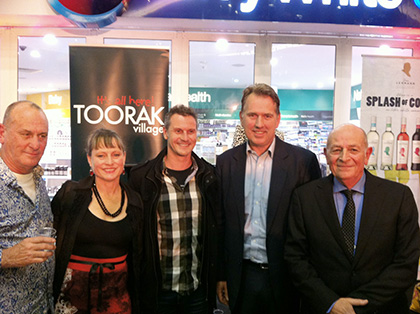 L to R: Malcolm Thomson, Tracey Cammock, Chris Vassallo, Clem Newton-Brown & Tony Fialides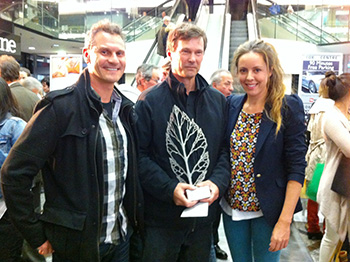 LUMP sculpture's Chris Vassallo & Timothea Jewell
with winner-Owen Hammond & Lump trophy
PARTNERSHIP
We were very excited about our new Partner – LUMP Sculpture Studio who sponsored the winning prize and has committed to supporting us for 2 years. Timothea Jewell from LUMP who won the 1st prize in 2012 wanted to give back and support sculptors herself along with partner Chris Vassallo. We truly appreciate Lump Sculpture's support this year. The other supporting partners were: City Of Stonnington, 3E Innovative, Tok H Shopping Centre, Tok Corporate Centre, Yarra Trams, Toorak Travel, Toorak Village Dental Care, Sotheby's, Egons Cakes, Oaks Hotels & Resorts, Toorak Rotary and Art Almanac.
AWARDS & WINNING SCULPTURES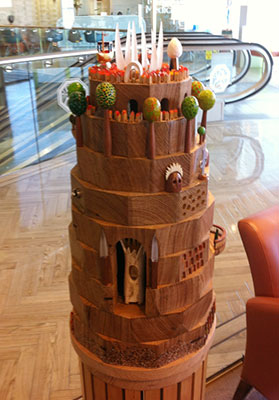 LUMP Sculpture Studio Award – $5,000
Owen Hammond with shop exhibit no 90 – 'Untitled'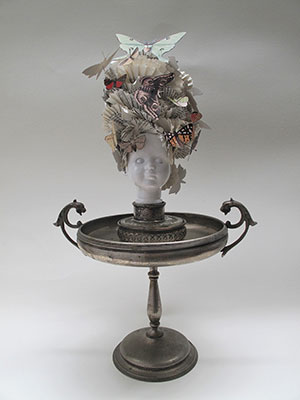 Toorak Village Traders Award – $2,000
Sai-Wai Foo with shop exhibit no 30 – 'Aurelias Handmaidens'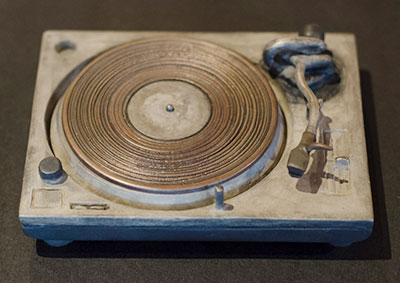 Judges Encouragement Award – $500 + OAKS Hotels accommodation voucher
Warwick Perrin with shop exhibit no 93 – 'Put the needle on the Record'