TOORAK VILLAGE
SCULPTURE EXHIBITION
2012 EXHIBITION
The 2012 Toorak Village Sculpture Exhibition once again brought sculpture back into the shop windows of businesses and along the pavements of Toorak Road. This was the 11th year of the exhibition presented by the Toorak Village Traders, directed by Tony Fialides and curated by Malcolm Thomson. The $10,000 (non acquisitive) award judged by Phillip Doggett-Williams – artist and arts educator was presented at the opening event on Friday 27th April. The Exhibition was formally opened by Andrea Coote MLC with City of Stonnington Mayor, Cr John Chandler praising the Toorak Village traders for providing a quality exhibition. Two hundred plus artists, traders, sponsors, councillors, residents and special guests attended the TOK H Centre for the announcements.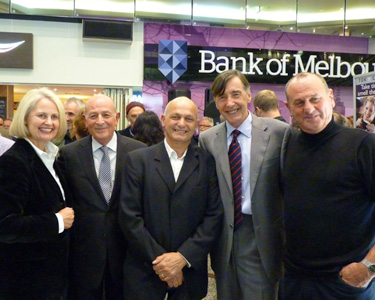 L to R: Andrea Coote MLC, Tony Fialides, Phillip Doggett-Williams,
Mayor Cr. John Chandler and Malcolm Thomson
The exhibition consisted of a total of 92 sculptures with 80 in shop windows on cream plinths and 12 larger exterior sculptures bolted to the sidewalks. Visitors saw many sculptures with quite a few animals this year including a life-sized gorilla amongst Mercedes-Benz cars, a giant snail at the tram stop, a bronze owl, a wooden dog, polar bear and more.
DOWNLOAD 2012 CATALOGUE
AWARDS
Due to our terrific partners this year we were able to offer a fantastic $10,000 award prize to one lucky artist. Phillip Doggett-Williams – artist and arts educator was our guest judge who spent many hours viewing all 92 sculptures and presented the City of Stonnington and Bank of Melbourne Award of $10,000 (non-acquisitive) to Adrian Spurr with A Contemplation at Haighs Chocolates. The Toorak Village Traders Award of $1,000 went to Sarah Field with Visions of excess series at Hot Pinkys Nails.
SPONSORSHIP
We had the support of 16 partners this year which enabled us to stage a truly professional Sculpture Exhibition and awards totaling $11,000. Thanks to City of Stonnington, Bank of Melbourne-Toorak, 3E Innovative, Tok H Centre, Tok Corporate Centre, Mercedes-Benz Toorak, TRAK, Toorak Travel, Toorak Village Dental Care, Woodards, Printgraphics, Haighs, Aromatique, Yarra Trams, Rotary Toorak and Art Almanac.
WINNING SCULPTURES
City of Stonnington and Bank of Melbourne Award of $10,000
Adrian Spurr
A Contemplation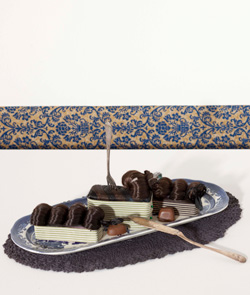 Toorak Village Traders Award of $1,000
Sarah Field
Visions of excess series