TOORAK VILLAGE
SCULPTURE EXHIBITION
2008 EXHIBITION
The 2008 Toorak Village Festival of Sculpture took sculpture back into the shop windows of 60 Toorak businesses along with 8 large exterior sculptures bolted to the sidewalks of Toorak Road. To a crowd of many at the Tok H Shopping Centre, Ken Scarlett OAM officially opened the 2008 Sculpture Festival where he commented on how far the sculpture show had come since its inception in 2002, along with much praise for the artists and curator Malcolm Thomson.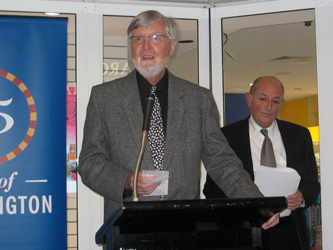 Ken Scarlett OAM and Tony Fialides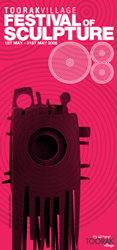 This was a very successful exhibition with quite a number of sculptures successfully sold to local & interstate customers. It was the year we purchased our first permanent sculpture by Rudi Jass Think outside the Square, now displayed outside Vintage Cellars, 481 Toorak Rd.
AWARDS
This year's Sculpture Festival was judged by Dan Wollmering Senior Lecturer of Sculpture at Monash University. Dan announced the winners at the Opening event and gave the awards to: Adrian Page with Cross Vaults, the City of Stonnington and Toorak Village Traders Award of $5,000; the Worrells Mercedes and Melbourne Weekly award of $2,500 went to Marynes Avila for Hybrid Times; and the Rotary Toorak $1,000 award went to Jill Symes for Annie 1 and Annie 2.
SPONSORSHIP
Along with the Toorak Village Traders Ass & the City of Stonnington, we were supported by Worrells Mercedes-Benz, Melbourne Weekly Magazine, Yarra Trams, Tok H Shopping Centre, Tok Corporate Centre, Rotary & Marshall White.
WINNING SCULPTURES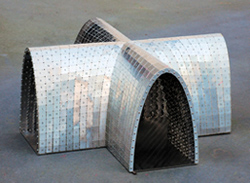 The City of Stonnington & Toorak Village Traders Award of $5,000
Adrian Page
Cross-Vaults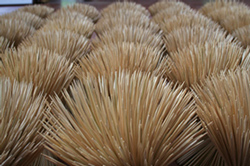 The Worrells Mercedes-Benz & Melbourne Weekly Magazine Award of $2,000
Marynes Avila
Hybrid Times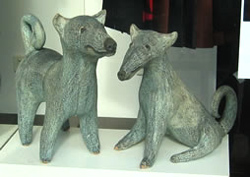 Rotary-Toorak award of $1,000
Jill Symes
Annie 1 and Annie 2