TOORAK VILLAGE
SCULPTURE EXHIBITION
2004 EXHIBITION
The annual Festival of Sculpture strongly supported by the traders and Toorak Village Traders Association, headed by Tony Fialides and John Button, set out to gain as much publicity and media coverage as the years before.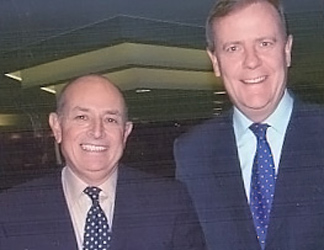 Tony Fiaildes and the Hon. Peter Costello
The third Festival of Sculpture was curated by Malcolm Thomson, and from a list of over 140 artist entries, Malcolm selected 91 Contemporary Artists and their Sculptures to exhibit in 91 different shop locations in and around the whole of the Toorak Village shopping centre.
The Hon Mr. Peter Costello, Federal Treasurer and Member of Higgins, officially opened the Festival on Friday 31st April 2004.
The exhibition attracted a large number of high quality sculptural works from established and emerging artists from Australia. It also inspired the local traders to work together as a group to promote an event, bringing a large number of interested visitors to the Village.
AWARDS
The City of Stonnington Sculpture Award valued at $5,000 was awarded to an artist whose work demonstrated a high degree of technical and aesthetic competence. Next was The Toorak Village Traders 'Emerging Artist' Award of $3,000.
A new award was introduced this year called the 'Peoples Choice' Award valued at $2,500, sponsored by Brian & Thelma Richards of Greythorn Galleries, 462 Toorak Road, Toorak.
Judges of the first two awards were Dr Robert Treseder, Director Australian Academy of Design, and Nicole Durling, Curator Contemporary Arts of Sothebys.
SPONSORSHIP
The exhibition was sponsored by the City of Stonnington, with supporting sponsorship by local businesses: Worrells Motors, Henry Buck's, Greythorn Galleries, Toorak Village Dental Care, Tok H Shopping Centre, Tok Corporate Centre, Toorak Place, ANZ Bank, Westpac Bank, National Bank, Commonwealth Bank, Bakers Delight, Haigh's Chocolates, Biggin & Scott Real Estate and Toorak Rotary.
WINNING SCULPTURES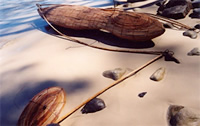 City of Stonnington Sculpture Award $5,000
David Shepperd
Spirit Boat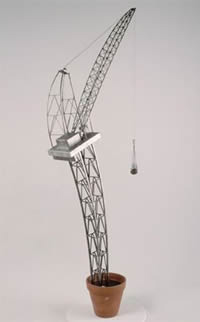 Toorak Village Traders' Emerging Artist Award $3,000
Brendon Taylor
Growth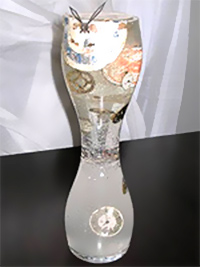 Greythorn Galleries Peoples Choice Award $2,500
Helen Dean
Suspended In Time