TOORAK VILLAGE
SCULPTURE EXHIBITION
2003 EXHIBITION
Following the success of the first Festival of Sculpture, the committee of the Toorak Village Traders Association decided to mount the Festival again in May 2003 and to make it an annual event.
Malcolm Thomson, Director of the Band Hall Gallery at Kyneton, was appointed as the 2003 curator. Malcolm selected 68 works by 52 artists, exhibiting in 54 shop locations along Toorak Road and the arcades.
Ms Winsome MacCaughey, Executive Director of the Australian Business Arts Foundation, officially opened the festival on Thursday 1st May 2003. Ms MacCaughey, in her opening speech, commended the Toorak Village Traders and the Stonnington Council for their recognition of the importance of cooperation between business and the arts.
The 2003 Festival of Sculpture was nominated for the 'Sensis Small Business Award' at the Australian Business & Arts Foundation (ABaF) Partnership Awards.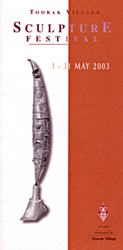 AWARDS & WINNERS

Two awards were planned but three were actually presented, as this years judges, found the quality of work so high that two winners of the City of Stonnington Sculpture Award were chosen. Both winners shared in the prize of $5,000. Judges were Liz Presa, Senior Lecturer VCA and Ken Scarlett, Curator of 2002 Sculpture Festival and Arts Writer.
SPONSORSHIP
The exhibition was sponsored by the City of Stonnington, with supporting sponsorship by local businesses: Worrells, Henry Buck's, Greythorn Galleries, Toorak Village Dental Care, Tok H Shopping Centre, Tok Corporate Centre, Bakers Delight, Haigh's Chocolates, Biggin & Scott Real Estate and Toorak Rotary.
WINNING SCULPTURES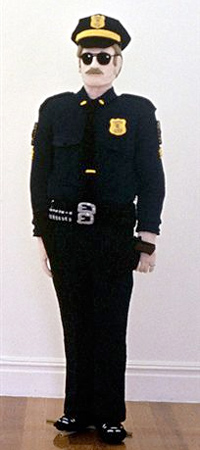 Worrells & Toorak Village Traders' Emerging Artist Award 
$3,000
Kate Just
Uniform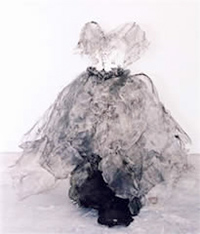 City of Stonnington Sculpture Award $2,500
Gemma Nightingale
Dress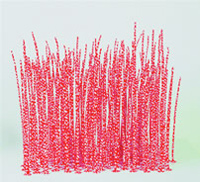 City of Stonnington Sculpture Award $2,500
Vera Moller
Bush Bush No. 3 Kusamarama