2014 ART AFFAIR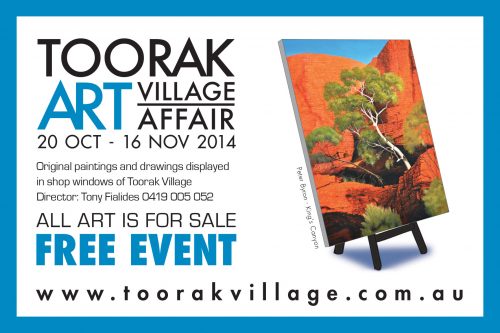 The Toorak Village Art Affair ran for 4 weeks from Monday 20 October until Sunday 16 November 2014. The Toorak Village Traders Association invited a group of eclectic successful artists to showcase original paintings, drawings and mixed media in the shop windows of Toorak Village businesses.
10 artists were invited this year – each successful in their own right with their individual format and style. Some have works represented in Australia's major collections including the NGV, National Library, Regional Galleries, as well as major corporate boardrooms and private collections.
Artists such as: Mark Schaller who has an Art Series Hotel named after him in Bendigo, Sarah Faulkner a founding member of Roar Studios, Darren Gilbert a sculptor and realist pen and ink artist of Australian birds and fauna, Fiona Somerville, Chris Dyson, Peter Byron, Ben Elisha, Gabriella Moxey, Helen Cottle with acrylic and watercolour realist/impressionist landscape scenes and Catherine Abel who paints striking naked figurative portraits that are incredibly beautiful.